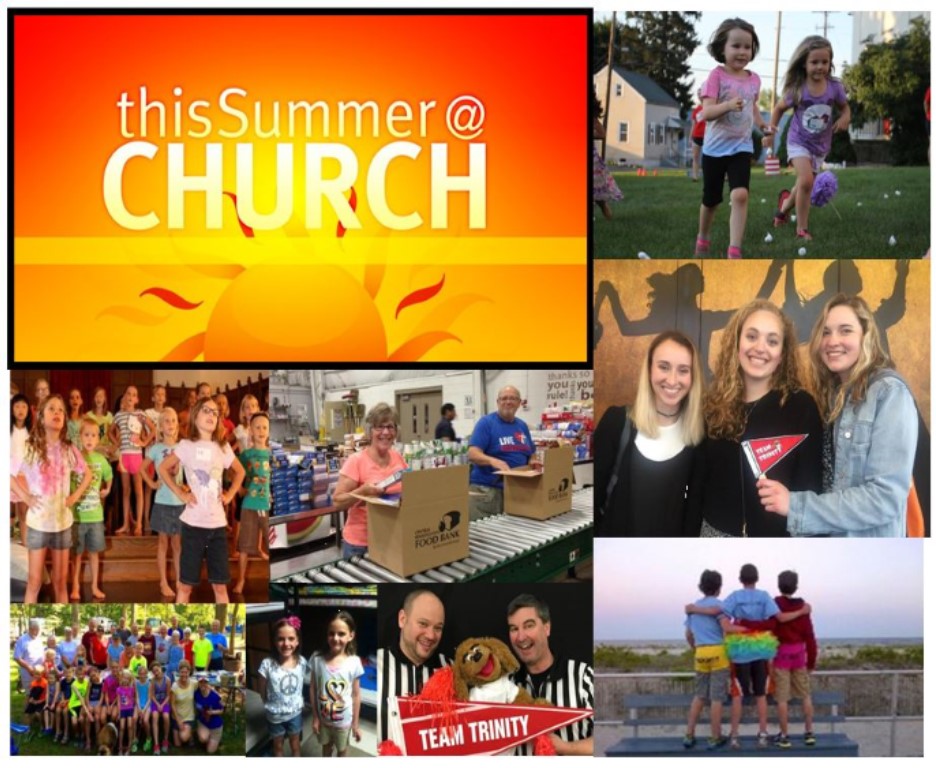 Summer is here, or just about! And we all know summer is different. I said to my daughter in the second weekend of May: "Only two more weeks of school, and then we can start our SUMMER SCHEDULE." She was quite excited… the summer schedule! Our regular routine includes school and soccer and dance and a bunch of other things, and they're all great. But the SUMMER SCHEDULE is new and different and refreshing, every year. It includes more time AWAY. It includes much more time OUTSIDE. It includes more gatherings and parties with family and friends, more "special" things. It includes time at CAMP! It includes more time in and around WATER. We look forward to it every year… the summer schedule!
All of us, I would guess, have something like the summer schedule. Even if your life doesn't involve school and soccer and dance right now, I'm sure that you have your own things that are DIFFERENT once summer gets here. More light and more warmth work on all of us: relax. Dress down a little. Step outside more. Do something fun. Be spontaneous. Call up a friend. Have a special dinner. Watch the sunset. Sit by the water. Listen to the sounds of nature. Breathe deep.
At Trinity, you know that we have a summer schedule too, and we're currently transitioning to it. ROC and BOLD are over, as well as adult studies. Many of our regular groups take a summer hiatus. It is, for most of us, a time to relax, breathe, dress down a little! And we know that we need that. BUT, we also know that our personal summer schedules and Trinity's summer schedule go hand in hand! We have special events and once-a-year activities all summer that allow us to dress down, step outside, relax and enjoy each other's company, and conform to a different rhythm of life.
We're not doing the "usual" things; we're taking a break and doing the "special" things! And it's so important that you join us, as you can and when you're here… your presence makes the summer schedule at Trinity that much more joyous!
Our BIG June event is Vacation Bible School, June 19-22. Come be a Spirit Detective with all of your friends at Trinity! It's not too late to volunteer, and it's DEFINITELY not too late to sign the kids up; we'll take registrations until the week of. Summer camp also starts at Kirchenwald and Nawakwa in June, and it's not too late to sign up for that as well. I will be the on-site chaplain at Camp Nawakwa the week of July 9-15, and would LOVE to have some Trinity kids to hang out with and keep an eye on that week! Visit lutherancamping.org or speak to a Trinity staff member for more information.
There's so much more, like Trinity Day at the Beach on July 19th, Trinity Cook-out sponsored by the Mom's Group at Twin Grove Campground on July 29th, and Kids' Choir Camp July 31st – August 4th. It's camping season for the Trinity Travelers (see the following pages for details!). Trinity will be serving at Water Street on June 10th, and there are SO MANY service projects and helping collections happening in July… again, see the following pages! And of course, we will be praying for our Guatemala mission group, and planning for NEXT summer's National Youth Gathering… and all the while we'll continue to have the opportunity every week to gather for awesome worship and fellowship.
Our summer schedule here at Trinity is different, and refreshing, and offers opportunities to plug in to new and unique things while taking a break from other things. Join us as often as you can. Try something new! Take a trip with us! Come help our kids learn! And if you can't make it to everything… take your Team Trinity pennant with you wherever you go and share your support with us on Facebook! Enjoy your summer… and take advantage of the Trinity Summer Schedule!
See you this summer!
Pastor Matt