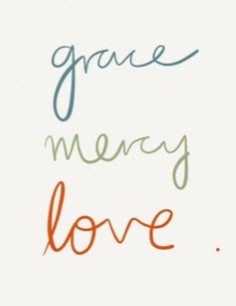 "Which of these three, do you think, was a neighbor to the man who fell in among robbers?"
He answered, "The one who showed him mercy."
Jesus answered, "Go then, and do likewise." – Luke 10:36-37
This year when we planned a "celebration" event like we've planned for the last several years at Trinity, we decided to focus on our history: a long and storied history here in this place of being a community of faith that was and is a source of strength and service for the Mount Joy community and a faith-filled celebration of God's goodness to us. Down through the years, Trinity has been that. People have been fed here; children have grown up here; the word has gone forth from here; God's presence has been experienced here, and that experience has been life-changing for generations upon generations. We thought that remembering our "Roots" would be a good way to celebrate the beginning of the year, and a good reminder to all of us that what we do here is not just for US; it lives on after we are gone, and it goes out into the world in ways that we don't even know about yet.
One of the things that has always set Christian faith communities apart is that these kinds of "rememberings" are very important to us, to how we speak and how we worship and how we even THINK about ourselves. We are not here by ourselves. We are people who believe in the communion of all the saints. We are people who remember what happened in the past. We are people who seek for the wisdom of ancient stories and try to imagine and reimagine them as fresh wisdom for our troubled world. All of our worship is built around the idea: remember, take time to remember. You have been here before. Others have been here before you. Others will be here after you. God is always here, has always been here, will always be here. Remember.
Lent is a time when we especially encourage the practice of remembering. We strip down the services a bit. We offer time and space for more prayer and personal reflection. We begin the season with the most personal and universal remembrance of all: remember that you are dust, and to dust you shall return. Others have been here before you, and others will be here after you, and God is always here. Remember.
It is a good time for us to stop and remember. In the midst of chaos and shouting, violence and fear, we have a deep need to stop and remember that we follow the Prince of Peace, who came into the world to teach a way of mercy that contradicts the prejudices and hatreds and heartless indifference around us. And the world has a desperate need to hear from people who remember: remember that Jesus came to show a better way, and to live it. Instead of coming to be worshipped, he came to be a servant. Instead of embracing power and majesty, he embraced the lowest, most marginalized members of society, the people living on the edge. Instead of demanding sacrifice, he demanded mercy. We remember these things. We are the people who remember. And, remembering them, we can speak hope to a world that is crying out for answers, crying out for mercy, crying out for love.
We can show these things to them. We do. Because we know that we are not the only ones, that there are those who were here before us and those who will be here after. Because we know that God is here, and here desiring mercy, not sacrifice. Because we know that Jesus came to offer us a different way, the way of love. Because we remember that we are dust. Because we remember that God is love.
God is here, has always been here, will always be here. Remember.
God's peace,
Pastor Matt