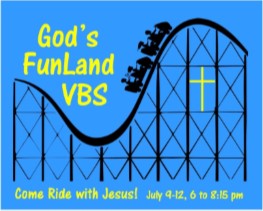 Be sure to join us this summer for an exciting week of VBS—July 9th-12th!
Come join us as we go on a fun filled Amusement Park adventure. We will be learning the story of Moses as we discover how to understand and manage our emotions and feelings.
All children ages 3 to 5th grade are invited to join us. It is sure to be a unique experience as we are once again creating our very own VBS. Four great nights of bible stories, crafts, games, science and of course snacks! You will not want to miss it!
Register your children and their friends at www.tinyurl.com/godsfundland or by clicking the link on our website.
If you have any questions, please feel free to contact Kim Alampi at daisybugg19@aol.com or (610)507-0442.