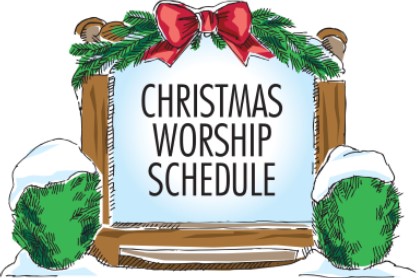 Advent 4 Service:
Sunday, December 23rd
Trinity will follow a normal worship schedule.  ROC classes will NOT be held.
Christmas Eve Worship Services
Monday, December 24th
3:00PM A simple traditional service featuring a sermon, Holy Communion (intinction), and carols. This service has grown rapidly into a large, joyous gathering that offers those who prefer not to be on the roads on Christmas Eve the opportunity to worship.
5:30PM Our service for families with small children. This wonderful service is both short and child-friendly. As always, J.J. and his friends will present the message. There are carols, special music, and the service ends in candlelight (with glow sticks for the little ones!). Holy Communion is not offered at this service.
7:00PM Trinity's traditional Family Service. The service includes the same children's sermon used at 5:30PM and musical offerings from the children's and youth choirs. Please come early for this service as seats tend to fill quickly! Holy Communion is not offered at this service.
9:00PM Our mid-evening service is something of a combination between our Family Service and Midnight Mass. There will be solo musical offerings, a traditional sermon, and carols. Holy Communion is offered at this service and will be distributed at the communion rail. There is no children's sermon at this service.
11:00PM Trinity's "Midnight Mass." The service features a full traditional liturgy, music by the Chancel Choir, and Holy Communion distributed at the communion rail.
Sunday, December 30th
10:00AM Only –  "Come Before God's Presence with Singing!"
A celebration in song featuring many of the talented members and friends of Trinity! One service featuring beautiful music, special readings (no sermon), and Holy Communion. Don't miss this unique and loved Trinity Christmas celebration! Note:  ROC and Adult education classes will not be held.
Please make every effort to join us this season—and feel free to invite friends and loved ones! God has sent us the son! Join us as we lift our voices in praise!