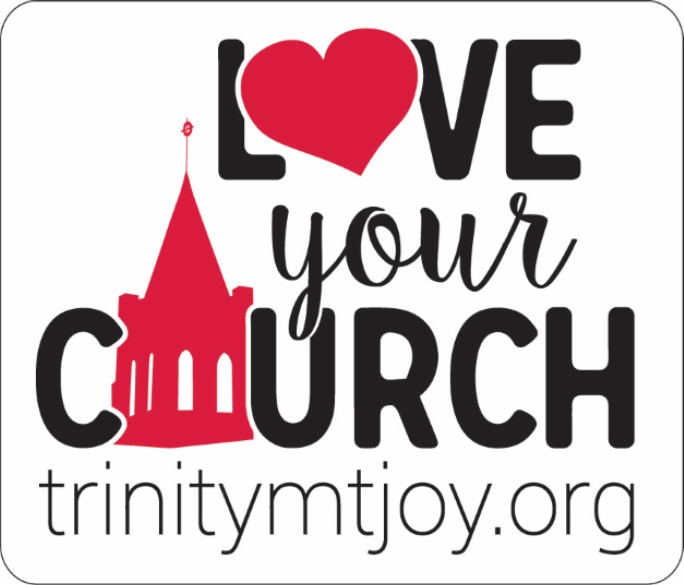 Here comes a New Year!
There's a lot that's "new" this year. A new pastor, the last part of our "new" renovations soon to begin, and talk of new activities designed to take our church into new areas of growth in the gospel!
Of course, we're hanging on to most of the "old" as well (including me!).
One of the things that will be new in 2016 is an emphasis that we will carry throughout the year: "Love Your Church!"
Folks, every year the same thing happens. We watch attendance fall off after Easter, fall off more in the summer, start to build in mid October, and blossom in November and December.
And our giving? It pretty much follows suit.
And every year (mind you, we are NOT complaining) we see a flurry of gifts at the end of the year that preserves our ministry. A flurry and a blessing—but, yes, one that is preceded by some palpitations of the heart for both council and staff!
Again, we are not complaining, we are extremely grateful that we have such a generous congregation!
Still, we want to see more consistency in worship. Our staff and musicians work tirelessly to make worship interesting and inspirational. My hope, as I craft worship and sermons, is always that "this will help us all to live the life of Christ."
But we also understand how busy life is. Some absence is to be expected in these less than "grace-full" times when obligations often outstrip our energy and ability to respond.  Still, your church needs you, just as you need your church!
With this in mind, we are beginning a yearlong emphasis called, "Love Your Church!"
What tends to happen at Trinity is that giving falls off completely in January. Again, this is understandable. We all tend to spend for the holidays and then need a month to catch our breath.
But the affect of this on our budget is pretty devastating. At the start of every year we seem to "slip on the banana peel" and end up deep in a hole.
So…we want to encourage EVERYONE to "Love Your Church!"
Beginning in January you will see a call to show your love for Trinity by making a special gift, beyond "regular" giving, on (or around) February 14th (and yes, Valentine's Day is on Sunday this year!).
Before continuing, we understand that what we are about to ask will be difficult, if not impossible, for some to accomplish. Remember—any gift that says you "Love Your Church" will be appreciated!
What we ask is that every giving unit (individual or family) put aside about $34 each week, for 6 weeks, in the New Year. (This is slightly less than the cost of keeping a family pet—estimated by most sources to be about $38 a week!)
Then, on February 14th, we ask that everyone take those funds, which will equal about $200 and make a special gift to our shared ministry!
What would happen if 200 giving units did this? In one week we would collect $40,000! (That would be about 7.6% of our needed budget for 2016!) If 250 giving units participated? $50,000! (About 9.5% of our budgetary needs!)
Then, from this point, we would ask that all would commit (if we haven't already done so) to consistent giving. If the membership of this incredibly strong church would commit to a "first fruits" approach to sharing our gifts, this kind of message would become completely unnecessary.
So please, start to think about this. And note: it will NOT be our intention to "always be talking about money" in the year ahead, and there are many ways to serve the gospel that don't involve money. But, we are encouraging you to "Love Your Church" financially, and will seek ways to help you show this love!
Finally, thank you for the great blessings and all that you have shared in this past year. It is truly wonderful to be part of this vibrant and important ministry with you!
Peace,
Pastor Mike