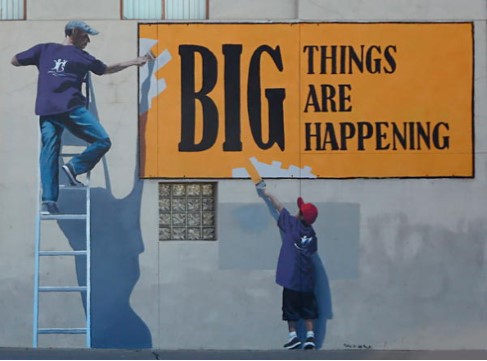 Your staff, council, and many volunteers are hard at work this summer, preparing for the "unveiling" of a second proposed round of renovations!
Our hope is to bring this proposal to you quickly, beginning with Rally Day! And the plans include creating a large gathering space on the first floor (where the current offices are) for fellowship and conversation!
Think about it, how many times have you wanted to chat in the halls of Trinity and felt, "in the way?"
There is a reason for this: YOU ARE!
Much as we hate to admit it, our facility is built to move people along—NOT to help people to get to know one another. So, when we stop to talk, we end up, sadly, "being in the way."
Our proposed plans, the product of three years of work by our Renovations Committee, council, and staff, addresses this issue without compromising existing classroom and activity spaces. In addition we will be looking at a "new" elevator to replace our existing unit, a new outdoor sign, and other exciting modifications.
How can this all happen? If we take the office space, where will the staff work? If we install monitors that will project the worship services in the area, can they also be wired to transmit ESPN?
The answers to these questions, and to many others, are coming soon!
Mark your calendars NOW for Rally Day, September 10th. There will be special presentations on the project at 9:45 (Rally Day for ROC) and at 11:00. Our worship services will also feature special speakers, focusing on the strength of Trinity's past and the hope for Trinity's future!
Keep us in prayer as we BOLDly look to the future, and remember, this project only will move forward with congregational approval, so come and let your voice be heard in this process.
Peace!
Pastor Mike