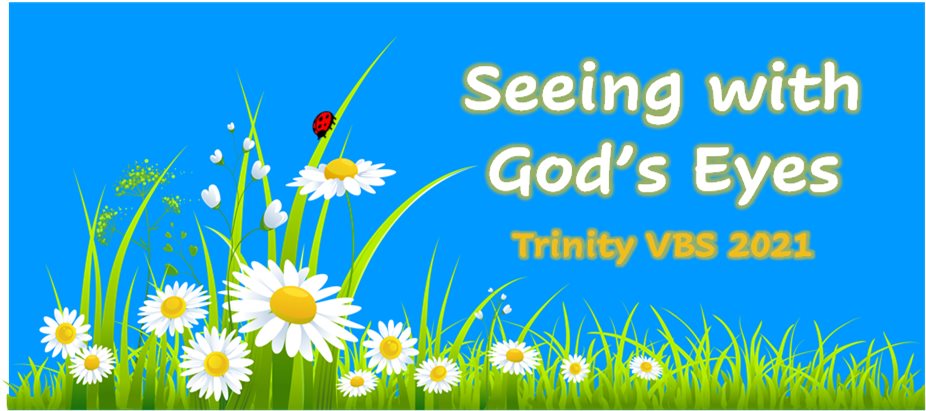 Children ages 5 through Grade 5 as of June 21, 2021: join us for an outdoor, two-night, Vacation Bible School at Little Chiques Park in Mount Joy!
Students may choose one of the two identical sessions offered, but may not attend both in order to keep groups sizes small.
We will meet at the park from 6:30 to 7:45 pm each night. Masks and social distancing will be required. In the case of forecasted rain or storms, that evening's events will be cancelled.
Be sure to choose the session of choice when completing the registration. If there are any questions, contact
Michelle Shirk
or leave a message on the church office phone (717)653-4168.
Volunteers are also needed:
A Covid-friendly VBS is on the way for Trinity Kids! Due to safety requirements, this experience will be very different from our past VBS programs. Here is an overview:
Children will move in groups of eight from station to station; there will not be a large group gathering of any kind
The event will be held from 6:30 pm to 7:45 pm in order to greatly reduce the need for bathroom breaks and lessen the chance of Covid spread
Volunteers will serve as "Shepherds" and will be responsible for a group of four children at all times. The volunteer's job will be to check in and check out their children, keep them all together throughout the event, help them adhere to Covid guidelines, and do all activities with them. There will be two Shepherds assigned to each group, and this group will move from station to station together.
All Volunteers who have graduated High School must be an "Approved Adult" with up-to-date clearances on file at Trinity.
Jr. High, Sr. High, and adult volunteers who are members of the Trinity Lutheran Church family are welcome to assist
Consider volunteering to help make this program possible. Contact Michelle Shirk or go to: https://trinitylutheran.shelbynextchms.com/external/form/ab1c7fc6-1ae5-4fd2-ac84-b413e5c39951