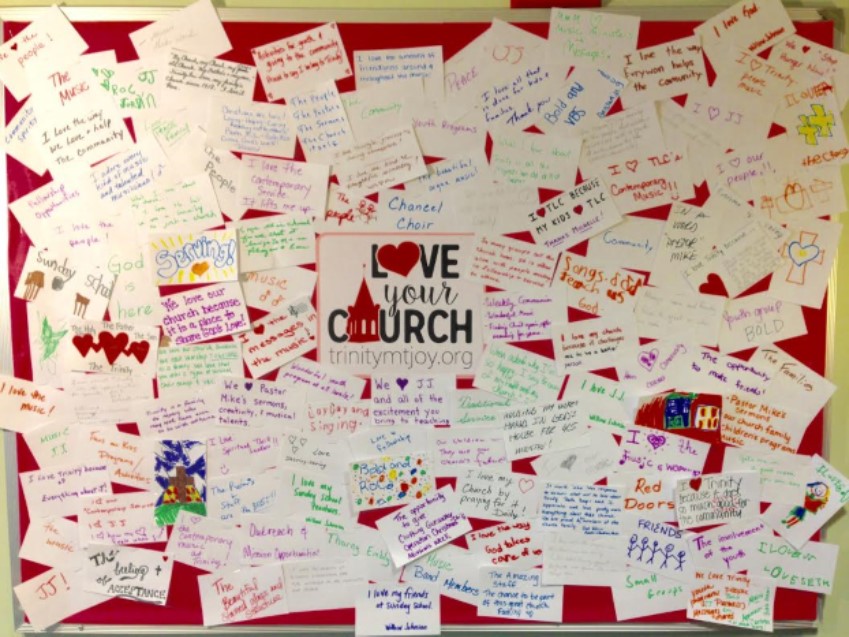 Happy Easter! I hope that it is warm and that things are green and growing when you read this.
Last December 6th seems like a long time ago from the perspective of spring. I was called to Trinity as a pastor that day. It was cold, and I was sick, and it was the holiday stress and swirl of busy-ness, and I was thinking about and looking forward to the time when I'd be starting at TLC but also finishing up projects and planning for Christmas at my previous congregation… it was quite a time!
Looking back on that from the perspective of now, I can hardly remember it… it seems like half a lifetime ago. That's because since January 11 when my call here began, I have been in the midst of (and sometimes even a little bit overwhelmed by!) the life and activity and service and witness of this amazing and profound manifestation of the Spirit that is Trinity Lutheran Church. I've been pitching in and helping, where and how I can, and that has been wonderful. But also, I've been observing and watching you all do what you do and be who you are, and I have so many thoughts and impressions from my "outside" perspective. Let me list a few for you!
This church is a place where people feel comforted and comfortable, but ALSO challenged and inspired. Do you know that that is rare? It is RARE.
This congregation is made up of people who are kind and sweet and supportive; it also has a fair share of people who are sarcastic and witty and prone to helping to keep everybody humble. Some of these are the SAME people!
This congregation is made up of people whose individual and collective work ethic is set to "tremendous."
This church functions as a place of safety in a tumultuous world; people know that they can come here and be surrounded by love and loving. AND, this church functions as a place of preparation for the challenges of the world; people know that they can come here and share opinions, bounce around ideas, hear words that make them think, sing songs that uplift them to a higher place, in their thoughts and their feelings, than they might have been before.
This congregation is made up of active people at all ages and from all walks of life. Young and old, blue collar and white collar, retired and just starting out, small children and beloved elders… this is a congregation that clearly values all of its people, and shows that by giving them work to do.
This church is a place of peace, but also of creative chaos; a place that feels complete, but is also constantly under construction (ha ha); a place led by the hardest-working staff anywhere, but that is often filled with activity that is mostly or entirely lay-led; a place where the past, the present, and the future are always in front of us and around us; a place where it is clear that people are working hard to form Christian community and to seek for God's will and God's work in the world.
Those are just a few things that I have observed so far. My point is, this is a church building that (barely!) contains a congregation that is just bursting at the seams to share God's love with the world. What I have seen so far is a congregation that strives to live by Paul's words from the letter to the Romans:
"Love one another with mutual affection; outdo one another in showing honor. Do not lag in zeal, be ardent in spirit, serve the Lord. Rejoice in hope, be patient in suffering, persevere in prayer. Contribute to the needs of the saints; extend hospitality to strangers."

I hope and pray fervently that as the weather warms and our schedules change and fill up, we will continue to join together regularly and consistently for worship, for study, for service, and for all the wonderful activities and special events that are outlined in this newsletter.
I used the word "rare" earlier to describe Trinity, and that is because this is the kind of place that people everywhere need, for connection and community and support and sacrament and all the things that Trinity is and does for us. Relatively few, in our chaotic world, get to have a place like this, the kind of place that all people need. We are among the lucky ones. We need to treasure what we have together, and to keep building and inviting and supporting and sharing so that throughout the year and beyond, others may join us in having it too. Thank you so much for being a part of this special place… thank you even more for calling me to be a part of it too.
God's peace,
Pastor Matt