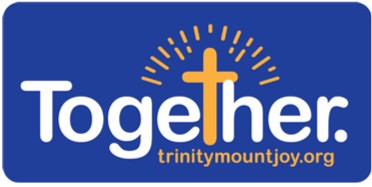 "All who believed were together and had all things in common… Day by day, as they spent much time together in the temple, they broke bread at home and ate their food with glad and generous hearts, praising God and having the goodwill of all the people." – Acts 2:44, 46-47

It's good to spend time together! The Bible tells us, in many places, that it is a mark of the people of God. They spend time together. Here at the beginning of Acts, when the first church was formed, the most notable thing about it to the people around in the society was… how much time they spent together!
And we know, of course, that it's not just a "sittin' on the dock of the bay" kind of together. We're not just wasting time. We're serving together. We're learning together. We're praising God together. We're being called to account together. We're making a difference in people's lives together. We're raising up children "in the way that they should go" together. We're making a difference in our own lives… together!
But, know this too: no time that the people of God spend together is ever "wasted" time. Do you know those moments of quiet reflection that happen in the worship service? Sometimes they happen at the beginning, when we're waiting for things to start. Sometimes they happen on our knees in confession. Sometimes they happen in the midst of the prayers of the people. Sometimes they happen at the end of communion, in quiet music. Sometimes they happen spontaneously, sometimes they're planned… but in all of those moments, we're together. Waiting together. On our knees together. Praying together. Quietly listening together. Quietly singing together. We're there, and God is present, and we're together. Nothing "productive" is happening; we're not obviously being productive, you can't see us making or fixing or improving in any way. And yet… those moments of being together are incredible, I think! They're some of my favorite moments to be with you, all of you, any of you. They're so simple, and yet profound in their simplicity. They force us to stop and breathe… or at least, to confront the fact that we don't want to. They are, if we let them be, powerful "God moments." And we're experiencing them together… and there's so little else going on, for a moment, that for me at least there's this powerful awareness of how we are there together.
As we move into the fun fall at Trinity, with schedules and plans and restarts and new offerings, I invite you to spend time TOGETHER, with your friends and your family and your church that is both. Be together. Spend much time together. Do things together. Don't worry about doing, sometimes, too… just, BE together! Advertise togetherness, like the early church did… let our "together" be known and notable to the people around us! Together, as the people of God and the body of Christ and the workers for the kingdom, let us pray that we can live more and more into the love and the hope and the blessing that God has for us this fall. I look forward to all of the next times that we get to be…
Together.
God's peace,
Pastor Matt