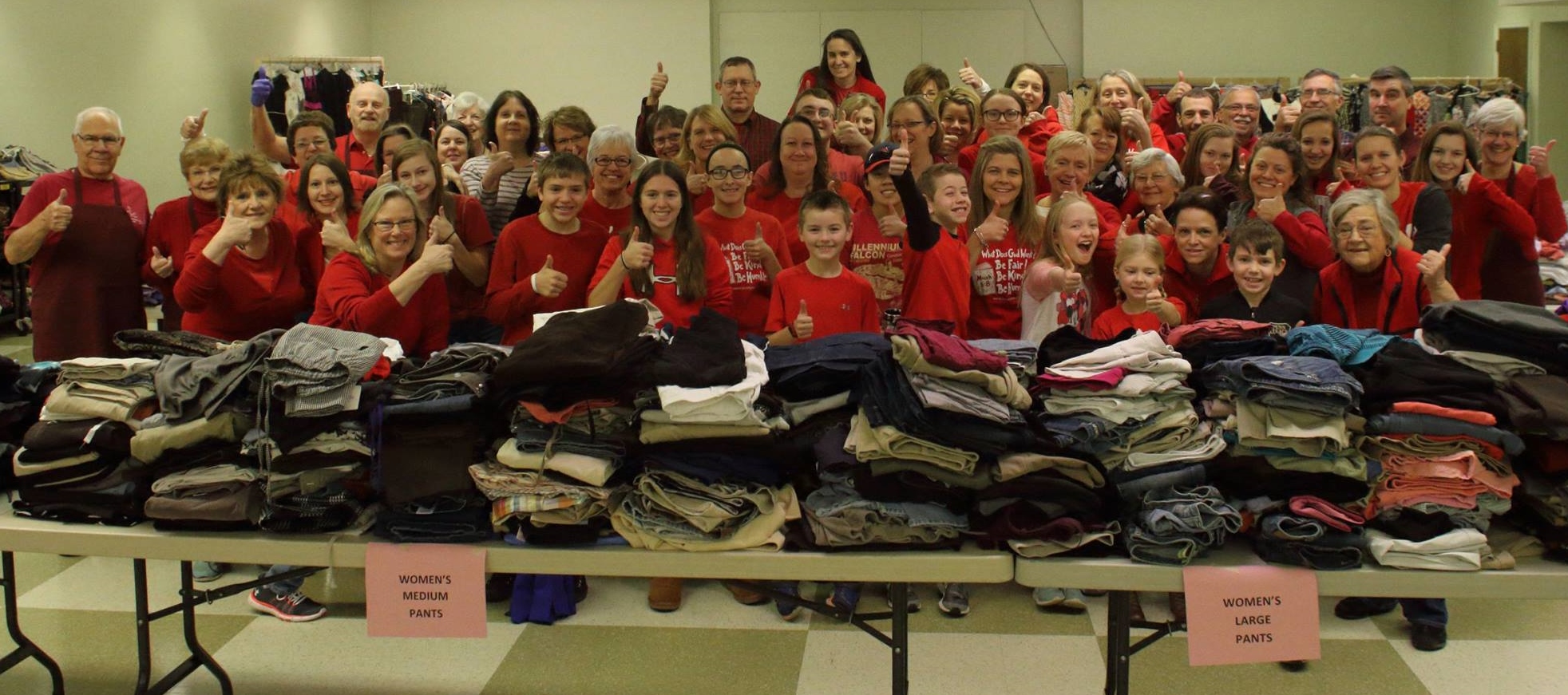 Trinity's 11th Annual Clothing Give-Away and Community Meal will be held on Saturday, January 26, 2019  9AM-12:30PM  (Doors will open at 9AM; No Early Birds) We continue to hold this event each year as we become more aware each year how great the need is for many in our community.  This is for anyone who needs clothing! There are no qualifications and we do not turn anyone away. We just ask that participants take clothing needed and be respectful of others in attendance.
All sizes are generally available, newborn through adult; however, this is dependent on donations that are received. In the past we've had coats of all sizes and men's and women's suits.  We will hopefully also have accessories as we accept any donation that helps to complete an outfit including shoes.  We are accepting donations from the community of new and gently used clothing.  They may be dropped off Sunday mornings, Mon-Thurs 10am-2pm and Wed evenings 6-8pm through January 20th.  Please mark bags by gender and size and place in the storage POD in Trinity's parking lot.
This event is organized and supervised by Trinity's congregational members and friends. Our BOLD Youth Groups begin sorting and organizing the Wednesday evening before beginning at 6:45pm. Adults and youth work steady for the following two days so everything is categorized by gender and size.  Volunteers are welcome Thursday, January 24th 9am-3pm and 6-8pm and Friday, January 25th during the same time.
Items will be placed throughout the church with men and women located downstairs and childrens, along with shoes and coats located upstairs. Volunteers will be in T-shirts that state "Live Generously", with name tags and stationed throughout the church to offer direction and assistance. Trinity's Fellowship Committee organizes and supervises the Community Meal which will begin serving at 10AM – 12:30 PM. The meal is eat in or take out and will be ham, mashed potatoes, baked corn, applesauce and desserts. Hot and cold beverages will be served at the event.
The number of families in our local area that need help with placing food on the table is increasing. Previous years, we have served 350 people. Our local food banks continue to see numbers grow from families seeking assistance.  As a congregation, we are committed to find ways in helping and serving our community.  We continue to support the Mount Joy Food Bank and the Donegal Power Packs Project.
Each member of our congregation helps to support this event whether it's donating clothing, baked goods, sorting and organizing in preparation and/or helping on the day of the event.  We all pull together to help our brothers and sisters in Christ.
For additional information, please contact the church office at 717-653-4168.