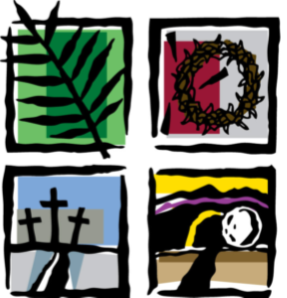 **Worship Services and Events Canceled – Watch for Videos on our YouTube Page; Facebook Page; and Website (3/18/20)**
Lent is a traditional time of prayer and reflection in preparation for the three days that lead to Easter. It is important to take time together as a community, and to find time for personal prayer and reflection.
Join us Wednesdays for Midweek Quiet Communion in Trinity's sanctuary at 11:30am, or for our traditional Midweek Worship at 7:00pm. Before, or after these times, visit our library and experience prayer stations that engage various senses, encourage contemplation, and allow you to participate in creating communal prayer art. You may also choose to use this space for whatever personal devotions you wish. If you can't join us on Wednesdays, remember these stations are available Sunday mornings between services.
Our doors are open to welcome everyone during Holy Week:
April 5th – Palm Sunday – Normal Worship Schedule 8:30, 9:45 & 11:00 am
Children are invited to process with palms at all services. ROC and Adult Education Classes will be held.
Click here for a 2020 Easter Memorial/Honorarium Form which are due on April 5th.
April 8th – Dinner and Egg Hunt at Little Chiques/Sico Park in Mount Joy at 6:00 pm; Bring a side dish to share.
April 9th – Maundy Thursday; 5:45 pm Fellowship Meal – A sign-up sheet is in the back of the sanctuary. Traditional Worship will follow the meal at 7:00pm in the sanctuary.
April 10th – Good Friday 7:00 pm worship will feature "Stations of the Cross" with candlelight and special music.
April 12th -Easter Sunday – Worship services will be held at normal times (8:30, 9:45 & 11:00 am) as well as ROC and adult education classes.  Our Cherubs will share music at 9:45 am and the Children's Choir will sing at the end of 9:45 am and during 11:00 am worship.