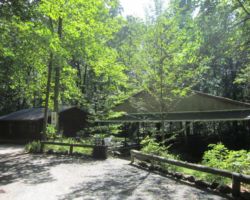 Nifty, nifty. Look who's fifty! Kirchenwald will celebrate 50 years of outdoor ministry in 2019.
A celebration of this anniversary will be held on Sunday, May 19th beginning at 1:30. The camp will be open for tours, games and time to catch of with friends and meet the counselors for 2019. A summer camp worship will be held at 3:30pm with a picnic-style meal to follow. Help LCC celebrate this milestone by sharing pictures and stories of Kirchenwald experiences on their website: LutheranCamping.org/Kirchenwald50. They are hoping to compile these memories into a special anniversary keepsake.
An RSVP at luthercamping.org will be helpful in planning.