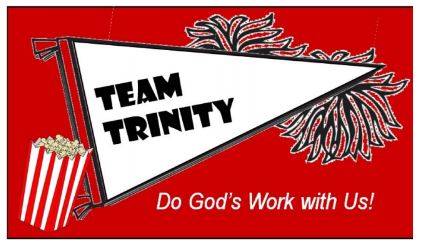 You've been seeing a lot of material coming from Trinity. You're also seeing (though much of this is "behind the scenes") ministry continuing against very difficult odds.
I want all of you to know, as we continue to shoulder through this, that the ministry of our church is uniquely designed upon, and dependent upon, the work of a team.
Many ministries are "pastor run." And while pastors are called to be leaders, Trinity has, in my time, tried to break down any separation between "ordained" and "lay" staff members.
Right now? We are seeing the benefits of this! Michelle Shirk is in contact with our youth and families in a way that Matt and I could not hope to replicate. She's creating "Morning Meditations" and generating daily content on Facebook and Youtube for kids with "JJ." She's also helping us to look at next steps as a church using her gifts as a strategic planner.
Elayne Olson is keeping us in contact with one another, caring for those who need a friendly ear and voice on the phone, and has done an amazing job of converting "PowerPacks" into a program that has handled the transition to a pick-up and delivery food service for those in need.
Jackie Rinehart has been training to bring us to a new database/finance system that will far better serve our needs while continuing to manage all of our finances from a home office. Her work is helping us to get ready to navigate the road ahead and helping us to plan for our ministry through the government's proposed "stages" of recovery.
Judi Cosgriff has remained a true "lifeline" for many members who are shut-in and longing for contact, even as her visitation (like all visitation) is now restricted to the phone.
Beth Parker is doing research to help with the planning of the curriculum Michelle writes, and has become a welcome voice on the phone to a number of our shut-in members.
Finally, our music staff is working to provide beauty in our worship offerings online.
And, as a pastor, I'm so grateful to have Matt Pensinger sharing this ministry. For one thing, he agrees with our approach and invests in it fully. In his own work he continues to care for so many, creates wonderful online content in this "new time" together, and does a remarkable job with our Friday night "love feasts." His sermons and prayers in this time have been insightful, and I have personally found them to be a source of strength.
My point is simple, many of you are thanking "me" for what you see at Trinity, but very little of this is the work of one person. The enormous creativity and production you see is coming from your staff (along with wonderful volunteers) as a whole.
For the most part, I want to convey my thanks to them for their incredible patience and hard work. But I also want us to remember that what we have here is the result of what we have built–a truly shared ministry.
And, thank YOU as well! For also sharing this ministry and for being part of Trinity at this time. Remember, there is always resurrection, and that day will come!