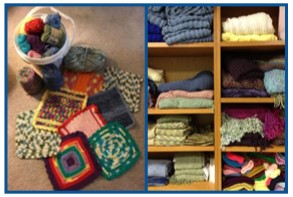 On Sunday, September 16th & 23rd, take a moment to look at the Comfort Stitcher Ministry display in the back of the sanctuary. This ministry creates items that bring comfort and joy and are available to anyone during the year. The projects is strictly funded by donations. If you would like to help support this ministry, simply drop a donation in the basket provided or mark "Comfort Stitchers" on any envelope and place it in the offering plate.
Completed items have been distributed through Hospice of Lancaster County, Warm-Up America, Water Street Mission and other community organizations as needed. This ministry also supplies Baby Baptism Blankets, Prayer Shawls, Prayer Mantles, Prayer Squares, Baby Blankets, "The Denim Project" (freshman scarves) and smaller projects when requested.
Trinity's "Comfort Stitchers" meet once a month with their next meeting scheduled for Monday, September 10th at 6pm in Room 209. Monthly meetings will continue the first Monday each month at 6pm, October through May. They are always looking for more women and men to join the group. You do not have to know how to knit or crochet! Contact Elayne Olson, Group Coordinator, with any questions.