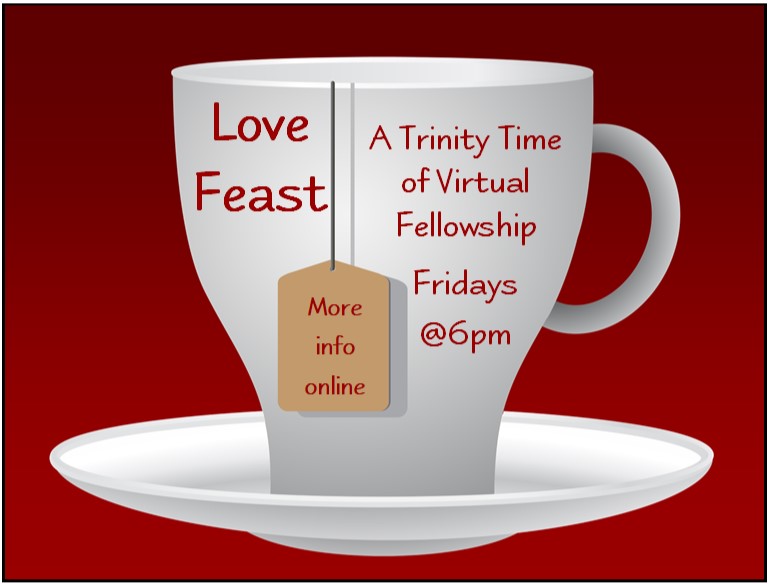 Update: Friday, June 5, 2020 is the final "Love Feast" gathering as Lancaster County enters the "yellow phase".
Join us Friday evenings at 6:00 PM live!
This is based on the "love feast" tradition in the Moravian church; ZOOM in to join us on your computer or smartphone (link provided below) with something sweet (a cookie, a donut, a muffin, a piece of cinnamon toast!) and a cup of tea or juice (or whatever beverage you like!) for a "meal" with Jesus and friends.  We will listen to a hymn while we eat and drink together; you will be able to send Pastor Matt prayer requests and he will pray for them out loud; we will close by saying the Lord's Prayer together.
Notes on the service:
–          this is an opportunity to keep up a ritual tradition and see other Trinity faces in a time when we can't be together in person to share communion; don't worry if you don't have a "sweet" bread on hand, join us anyway!
–          our Zoom account limits us to 150 participants; we don't anticipate hitting that ceiling but if we do we will add more participants in the future
–          We will start right at 6 PM; the event will be open at 5:45 PM, so be on time if you want to participate live.  If you have trouble getting in send us a message and we'll try to help in real time, but if we can't we will make sure that you are up to speed for the next one
–          Once in the Zoom, you will be able to toggle your computer or phone camera on and off; audio will be controlled by the host (Pastor Matt for this first one) and will only be toggled on for the Lord's Prayer.  There is a chat feature you can use to type in prayer requests.
–          If you miss the live event, we will have a video posted to Facebook and YouTube on Saturday morning so that you can still participate and see your Trinity family!
Trinity Mount Joy is inviting you to a scheduled Zoom meeting.
– Topic: A Meal With Jesus
– Time: Mar 20, 2020 06:00 PM Eastern Time (US and Canada)
– Join Zoom Meeting
– https://us04web.zoom.us/j/794307298?pwd=amR6blNGRmVxZHBIWUkxSkNYanhpQT09
– Meeting ID: 794 307 298
– Password: 057188
(instructions about how to join a Zoom meeting can be found here: https://support.zoom.us/hc/en-us/articles/201362193)